Hi Polish The Stars readers, I'm My. My home is over at
Space 46
, which I recently started to express my love and passion for crafts and decors. I am very excited to be here today to introduce myself and my blog and to share with you a couple of my first projects as a newbie DIYer . You probably already know this. Crafting is so addicting, and the joy of completing a project is way beyond imagination. Especially when someone stops by and leaves a sweet comment, it means the world to me. So I hope to see you soon over at Space 46 . Happy holiday to you and your family!
If you love turquoise and jewelry, you will love this jewelry storage solution that I came up with to display my long necklaces and to store a few of my bracelets. Super easy! No elbow grease needed!
These two go on the wall just above my night stand.
Here is the list of what I used to complete this project:
spray paint--Rustoleum in Satin Aqua

cabinet knobs--I chose cabinet knobs over hooks because they come in many different designs and finishes and they secure onto wood much better!

wood plaques--from Michaels $1
*** A special thank to Megan for this guest post opportunity. ***
With Love from My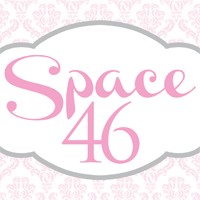 This post may contain affiliate links. These affiliate links help support this site. For more information, please see my disclosure policy. Thank you for supporting Polish The Stars.